Hurricane Litigation and Commercial Property Claims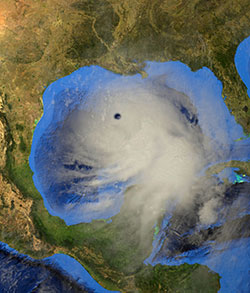 Louisiana falls victim to some of the most dangerous hurricanes. Just 15 years after the devastation of Hurricane Katrina, we are now facing the aftermath of Hurricane Laura. At Huber Thomas & Marcelle, we take great pride in helping our community during these difficult times. Our team is actively working in Lake Charles assisting residents and businesses during their recovery after Hurricane Laura damage; this is our top priority. Here's how we can help if you were affected by Hurricane Laura property damage.
How Much Hurricane Laura Damage Occurred?
According to property data analyses, Hurricane Laura is responsible for anywhere between $8 and $12 billion in damage in Louisiana. More than 500,000 homes and commercial properties were destroyed or damaged due to the intensity of this weather event. In Texas, Hurricane Laura damage estimates are around $550 million.
Much of the Louisiana property damage was the result of 150-mph winds that destroyed parts of the state's power grid. According to the power company, Entergy, the damage is so extensive that some infrastructure needs to be rebuilt from scratch. All seven transmission lines that serve as the interstate system delivering power to the Lake Charles area were damaged.
What does this mean for home and property owners? The data is grim.
Hurricane Laura losses now top the $6.4 billion in insured hurricane property damage from Hurricane Rita in 2005. While this is much less than the hurricane property damage after Harvey and Katrina, the impact is still significant. After a major weather event like a hurricane, it's difficult for many people to make loan payments.
Coupled with COVID-19, home mortgage delinquency rates were already above the national rate in many areas. Experts predict Hurricane Laura damage only made matters worse for the many people already experiencing economic hardship due to COVID-19. Recovering fully financially after a set-back like this is crucial.
How To Recover After Property Damage From Hurricane Laura
Despite high monthly premiums, many insurance companies don't hold to their word when disaster strikes. At Huber Thomas & Marcelle, we believe these companies need to be held accountable. Homeowners and business owners deserve peace of mind in the aftermath of Hurricane Laura.
Don't let your insurance company deny claims through loopholes, obscure terms, or unclear language buried in the fine print. By denying claims or paying out less than promised, insurance companies stand to profit at your expense. In some cases, they purposely delay claims, hoping that policyholders will give up or accept less than they deserve. Our team won't stand for these bad faith insurance practices.
Our attorneys at Huber Thomas & Marcelle have extensive experience and a proven track record for hurricane litigation and commercial property claims. Following Hurricanes Katrina and Gustav (and the tornadoes associated with these storms), we successfully handled breach of contract cases against insurance companies that failed to pay their policy holders fairly.
Our clients include both individuals and commercial entities. Our previous case victories speak for themselves. We have handled thousands of property claims, including successful jury trials and settlements in excess of $50 million.
In one case, attorneys at Huber Thomas & Marcelle secured a $26.2 million settlement for Louisiana business owners. This helped the owners of a local high-rise office building recover after extensive hurricane damage. In another case, a Gulf South hurricane wreaked havoc on one business owner's retail center. Our attorneys brought a case against the insurance company to court, resulting in a $4 million jury verdict.
Your Partner After The Hurricane Lands
Intense weather events like hurricanes often lead to catastrophic damage. This type of loss can have a devastating effect on your family or business. At Huber Thomas & Marcelle, our team will walk with you through the process of getting your life back on track.
If you suffered property damage from Hurricane Laura, we want to hear from you. We represent clients in Louisiana, Texas, Mississippi, and nationwide. No matter where you are, our team can assist in getting you the compensation you are entitled to. All you have to do is schedule a free consultation.
Give us a call or use our online form to submit a private, confidential inquiry. One of our team members will get back to you shortly.