Hurricane Laura | Hurricane Litigation and Commercial Property Claims
Hurricane Litigation and Commercial Property Claims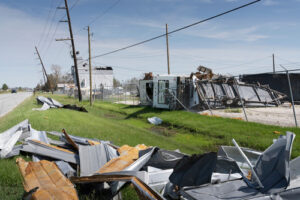 Louisiana falls victim to some of the most dangerous hurricanes. Just 15 years after the devastation of Hurricane Katrina, we faced the aftermath of Hurricane Laura. In 2021, we experienced Hurricane Ida, a Category 4 storm that brought $75 billion in damages.
These storms bring immense damage to homes and businesses, affecting our neighbors across the region. At Huber Thomas Law, we feel a responsibility to help our community during these difficult times. Our team has been diligently helping residents and businesses recover by providing expert counsel for hurricane insurance claims.
To hold insurance companies accountable, we at Huber Thomas Law want to make sure Louisiana business owners are equipped with knowledge. Understanding the process of filing a claim for commercial property can be complicated. Having a legal team to help you navigate the process is essential. Read on to learn more about why this is important.
Understanding Hurricane Damage Claims
Know What's in Your Insurance Policy
If you own a business in the state of Louisiana, you have significant investments in property, assets, people, and products. These investments carry significant financial risk, especially in the event of damage. Chances are you hold a commercial insurance policy for this reason.
Having a commercial insurance policy is the first step in protecting yourself and your investments in the event of a hurricane. The next step is fully understanding what is covered in your policy. At Huber Thomas Law, we can help you understand your policy. This will ensure that your business is properly protected from hurricane damage.
Types of Damage Covered
Commercial insurance typically covers physical damage that results from hurricanes. Property such as the physical structure of your business, inventory, equipment, and assets may be covered in the event of damage. Insurance policies may provide coverage in certain circumstances. These often include business interruption, temporary relocation, or liability claims if someone is injured while on the job.
Be sure to review your policy to understand what types of damage are covered. Many commercial insurance policies do not cover flood damage. This type of damage is usually only covered in a separate flood insurance policy.
Claim Requirements
Insurance companies have specific requirements for commercial property claims, including forms to fill out and documentation to provide. Any claim that you submit must have detailed documentation, such as photos, videos, receipts, and records. These records may include the age, valuation, and purchase price of your property and assets. Be sure to carefully review your policy to understand the specific requirements your insurance company has for property damage claims.
Claim Deadlines
When you experience commercial property damage, time is of the essence. It is in your best interest to act on your hurricane insurance claim promptly. Delaying your claim may put you at risk of a settlement denial. Many insurance companies have deadlines for when a business owner can submit a commercial property damage claim. Make sure to review your policy for your insurance company's specific deadlines. These deadlines are crucial components of your hurricane preparedness checklist.
Know the Steps for Submitting a Hurricane Claim
In the Gulf South, we receive advanced warnings when a hurricane is heading our way. Chances are that you already have an emergency plan for when a hurricane strikes. If you own a business in Southeast Louisiana, consider the following steps for your hurricane response plan. This is essential, whether you are a new or seasoned business owner.
Following the steps below are crucial in maximizing your claim settlement.
Report the Property Damage to Your Insurance Company
When a hurricane strikes and causes damage to your business, you need to act quickly. Be sure to call your insurance agent promptly to report the damage caused by the hurricane. Your insurance company may require certain documents and information. Follow their directions when submitting your claim. This is very important.
Keep a Record of Your Property Damage
Take photos and videos of all damage that occurred on your property. Documentation of exterior and interior damage will be needed. You will also need to list all damaged items, including their age, value, and purchase price. Your insurance company may also have requirements for documentation, and you will need to follow their direction carefully when submitting your claim.
Take Steps to Reduce Further Damage
Once you have documented the damage, you must take steps to prevent any further damage or collapse. Cover broken windows, tarp damaged roofs, and make any temporary repairs needed to ensure further damage doesn't occur. Be sure to hold on to any receipts or invoices incurred as you make these necessary repairs.
Carefully Review Your Insurance Policy
Before the insurance adjuster visits to inspect the property, make sure you fully understand your commercial insurance policy. Read the fine print and call your insurance company to ask questions about any unclear policy statements.
Meet with Your Insurance Adjuster
Allow the insurance adjuster to visit your business and inspect the property damage that occurred as a result of the hurricane. They will assess the damage and report back to your insurance company. Be sure to provide all of your photos, videos, receipts, and documents, and answer all questions honestly.
Hire an Insurance Litigation Attorney
It is common for business owners to experience delays and disputes with their insurance company following a property damage claim. Your insurance company may be overwhelmed with claims from other policyholders. They may try to offer you a lower settlement than you deserve. It is a wise move to have an attorney on standby in case you are treated unfairly by your insurance company.
Be Prepared to Negotiate
Expect the adjuster and insurance company to provide a lower settlement than you deserve. You do not want to be blindsided with an unfair settlement without a strong counter-response. Hire a team, including a seasoned attorney and public adjuster, to help you review your damage, documentation, and insurance policy. These professionals are key in fighting for fair compensation.
Review Your Payments and Estimates from Your Insurance Company
If your insurance company approves your claim, you will receive a tender. Read all of the details of the paperwork carefully to ensure all your damages and expenses are covered. You can then contact your insurance company to ask questions and express concerns.
Make all Necessary Repairs
Once you receive a  tender, you will be able to make repairs to your property and replace any damaged items. Keep track of all expenses relating to repairs and replacements. Use receipts and invoices as evidence.
Consult with a Tax Professional
When you have experienced hurricane damage, you may be eligible to claim hurricane-related deductions on your taxes. The President of the United States or FEMA must designate the region as a federally declared disaster area. Keep all documentation of your hurricane damage to support your claim. It is also recommended to consult a tax professional for guidance on your tax laws and benefits.
Common Issues with Hurricane Damage Claims
Knowing what to expect going into a hurricane is key for minimizing damage and reducing the risk of injury. Many hurricane preparedness plans include the steps needed for gathering supplies and fortifying structures. However, it is important to keep in mind the ways things can go wrong after the storm.
There is another storm that occurs after the real one has hit. As homeowners and business owners begin submitting their property claims to insurance companies, new challenges begin to arise. From settlement delays to disputes over damages, many people experience a new host of trials once they've submitted their claims.
Below are the common challenges following a hurricane insurance claim.
Delays
Hurricanes cause widespread damage, affecting many people at once. From residential to commercial property claims, insurance companies receive a high volume of claims all at once. Insurance companies may have difficulty responding to all claims promptly. This could be especially true if they lack staff or are overwhelmed. This means you may be waiting a while before you hear back about your commercial property claim.
Policy Disputes
The complexities of commercial insurance policies can lead to disagreements between policyholders and insurance companies. Nuances in terms, conditions, and exclusions can cause confusion. Your understanding of the policy may not match your insurance company's interpretation. Legal counsel can be useful when dealing with policy disputes. They can help to understand the language of the policy in a way that is beneficial for you.
Assessment Disagreements
The adjuster assigned to assess the damage to your property may have a different opinion than you do on its value. This opinion is subjective. It's essential for business owners to track the age, valuation, and purchase price of their property and assets. Keeping a record of this information is essential for business success. Having adequate documentation and concrete figures to provide can help you build a better case for fair compensation.
Much like other businesses, insurance companies are profit driven. Denying and undercutting claims has led to the reputation of insurance companies being untrustworthy. When you pay an expensive monthly commercial insurance premium, you should feel certain your policy will protect you from catastrophic events. It is possible to ensure you get the compensation you deserve by hiring a legal team with experience in hurricane litigation.
Benefits of Hiring a Hurricane Litigation Attorney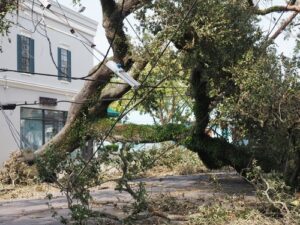 Your insurance policy and monthly premiums should provide peace of mind. In the event of property damage due to a hurricane, this should be sufficient. However, many insurance companies fail in their promises to their policyholders. At Huber Thomas Law, our mission is to protect business owners and hold insurance companies accountable.
Huber Thomas Law provides special attention and care to business owners' hurricane litigation claims. You can be sure that your claim will be handled properly. Below are the ways we can help.
Expertise in Commercial Property Damage
Huber Thomas Law is a law firm that specializes in property damage claims. They bring years of experience and extensive knowledge of the claims process. Our attorneys have a proven track record in property damage litigation following a hurricane. We have handled thousands of property damage claims, including successful jury trials and settlements in excess of $50 million.
We secured a $26.2 million settlement for a Louisiana business owner. This money was to help a local high-rise office building recover after it suffered extensive hurricane damage. In another case, a Gulf South hurricane wreaked havoc on one business owner's retail center. Our attorneys brought a case against the insurance company to court, resulting in a $4 million jury verdict.  These are just a few examples of our firm's success.
Evaluation of Insurance Policies and Claims
Insurance policies are contracts that carry legalese. We're equipped to help you review your policy and understand your entitlements. The attorneys at Huber Thomas Law can help you. They will review your policy and evaluate all provisions. This will allow them to identify how you can get the highest compensation you are entitled to. We may even be able to uncover entitlements you would otherwise miss.
Experience in Negotiating with Insurance Companies
As a business owner, you wear many hats. You're likely also handling other negotiations of your own. Negotiating with insurance companies can be a burden. Let an experienced team take care of it so you can focus on other priorities. You can rest assured that the attorneys at Huber Thomas Law have your back in advocating for a fair settlement.
Claim Documentation and Process Guidance
After a hurricane, the aftermath can be overwhelming. Resuming business operations, ensuring the safety of your employees, and managing your own personal recovery can be daunting tasks. Legal counsel can assist you in submitting a hurricane claim and documenting what's necessary to substantiate the claim. The attorneys at Huber Thomas Law can help you meet your deadlines and provide invaluable advice on maximizing your settlement.
An experienced legal team in property damage litigation is a crucial component of hurricane preparedness. Legal advocacy can provide the peace of mind that insurance companies fail to provide. With so much on your shoulders following a hurricane, we can take this heavy weight off of you.
Your Partner After the Hurricane Lands
Intense weather events like hurricanes often lead to catastrophic damage. This type of loss can have a devastating effect on your family and business. At Huber Thomas Law, our team will walk you through the process of getting your life and business back on track.
If you have suffered commercial property damage after a hurricane, we want to hear from you. We represent clients in Louisiana, Texas, Mississippi, and nationwide. No matter where you are, our team can assist in getting you the compensation you deserve. Contact us today for a free consultation.
Give us a call or use our online form to submit a private, confidential inquiry. One of our team members will get back to you shortly.