Bayer, J&J Win Third U.S. Trial Over Xarelto Bleeding Risk
A federal jury has cleared Bayer AG and Johnson & Johnson of liability in the third case to go to trial out of thousands of lawsuits claiming the drugmakers' blood thinner Xarelto led to severe internal bleeding.
The verdict in U.S. District Court in Jackson, Mississippi, is a blow to thousands of patients with similar allegations against the drugmaker. The jury returned the verdict after just four hours of deliberation.
The companies also won the previous two trials on claims of risks from Xarelto.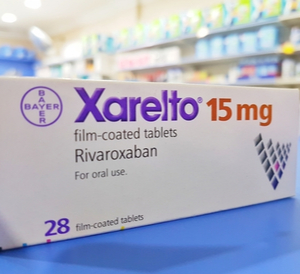 In the latest case, plaintiff Dora Mingo claimed she suffered acute gastrointestinal bleeding after she was treated with Xarelto for a month in 2015 to prevent blood clotting following an operation.
 She accused the drugmakers, who jointly developed the blood thinner, of having failed to warn about the bleeding risks and said her injuries could have been prevented had they provided adequate information.
Mingo's case is among an estimated 18,600 lawsuits in federal and state courts related to Xarelto. The first three cases were chosen to be tried as so-called bellwethers to help both sides assess similar claims, define legal strategies, damages ranges and settlement options.
Both Johnson & Johnson and Bayer said they would continue to defend against claims related to Xarelto.
"We will continue to defend against the allegations made in this litigation," J&J's Janssen Pharmaceuticals unit said in a statement.
Bayer in a statement, said, "Bayer stands behind the safety and efficacy of Xarelto and will continue to vigorously defend it."
Andy Birchfield, one of Mingo's lawyers, in a statement said health complications suffered by thousands of patients could have been avoided if physicians were properly instructed about the risks.
"We will continue fighting for the thousands of innocent victims injured or killed by this drug," Birchfield said.
Xarelto is Bayer's best-selling drug and in 2016 contributed 2.9 billion euros ($3.41 billion) in revenues to the German group's pharmaceutical business.
J&J in 2016 reported $2.2 billion in revenues from Xarelto.
The U.S. Food and Drug Administration approved Xarelto in 2011. The drug is prescribed for people with a common heart rhythm disorder known as atrial fibrillation and to treat and reduce the risk of deep vein thrombosis and pulmonary embolisms.
Original story by Tina Bellon of Reuters.
If you'd like to discuss the details of your medical liability case or other business issues, please contact us to set up a consultation.