J&J to Pay $72 Million In Suit Linking Talcum Powder to Ovarian Cancer
Jacqueline Fox passed away in the fall, but her voice recently came alive in a St. Louis courtroom.
In an audio deposition, the Birmingham, Ala., native who died at age 62 recounted 35 years of using Johnson & Johnson products containing talcum powder, including the manufacturing giant's trademark baby powder and its Shower to Shower body powder. Fox had used them for feminine hygiene, and she believed they were what ultimately killed her.
More than three years ago, she was diagnosed with ovarian cancer that proved fatal. Fox was among more than 1,200 women from across the country who were suing Johnson & Johnson for failing to warn consumers of the dangers associated with talc, the mineral used in baby powder.
On Monday, her case became the first in which monetary compensation was awarded.
A Missouri jury has ordered Johnson & Johnson to pay Fox's family $72 million in actual and punitive damages. One of Fox's lead attorneys, Jim Onder, told the St. Louis Post-Dispatch that $31 million will go to the Missouri Crime Victims' Compensation Fund.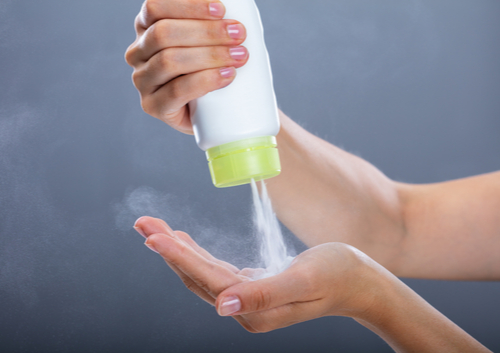 The suit's other defendant, talc producer Imerys Talc America, has not been faulted.
"We have no higher responsibility than the health and safety of consumers and we are disappointed with the outcome of the trial," Johnson & Johnson said in a statement Tuesday. "We sympathize with the plaintiff's family but firmly believe the safety of the cosmetic talc is supported by decades of scientific evidence."
Johnson & Johnson is expected to appeal the verdict. The award — which is made up of $10 million in compensatory damages and $62 million in punitive damages — will probably be lessened in appellate courts, Stanford University law professor Nora Freeman Engstrom told the Associated Press.
According to the St. Louis Post-Dispatch, one male juror and nine female jurors voted in Fox's favor; two men voted against her.
One juror, 50-year-old Jerome Kendrick, told the Post-Dispatch that he was swayed by internal company memos presented at trial.
"They tried to cover up and influence the boards that regulate cosmetics," he said, adding "They could have at least put a warning label on the box but they didn't. They did nothing."
One memo from a company medical consultant likened ignoring the risks associated with "hygenic" talc use and ovarian cancer to denying the link between smoking cigarettes and cancer — in other words, "denying the obvious in the face of all evidence to the contrary," the Associated Press reported.
Another document noted that sales were declining as more people became aware of the health risks, and included strategies for making blacks and Hispanics the highest users of talcum powder, Onder said, as the Post-Dispatch reported.
Fox was African American.
The New Jersey-based company faces many more lawsuits related to talcum products it has made household names.
Marvin Salter, Fox's son, told the AP that using Johnson & Johnson "became second nature, like brushing your teeth."
But a routine act eventually became insidious, Fox's attorneys argued.
A pathologist found that Fox's ovaries were inflamed from talcum powder, which then turned into cancer.
While studies have associated regular talc use with ovarian cancer for decades, the American Cancer Society notes that there is no definitive research on whether asbestos-free talc — the kind widely used in consumer products — causes ovarian cancer:
Findings have been mixed, with some studies reporting a slightly increased risk and some reporting no increase. Many case-control studies have found a small increase in risk. But these types of studies can be biased because they often rely on a person's memory of talc use many years earlier.
Story by Yanan Wang of the Washington Post.
If you'd like to discuss the details of your case with a personal injury lawyer, please contact us to set up a consultation.