Know why car insurance rates might be skyrocketing? Blame it on your phone.
Car insurance rates charged by Louisiana's largest auto insurers have been on a double-digit run, mirroring a national trend the industry says is fueled by more accidents and a spike in claims costs.
"We're seeing it play out all across the nation. It is universally attributed to a combination of distracted driving, cellphone use while driving, and more miles, cheap gas," Insurance Commissioner Jim Donelon said.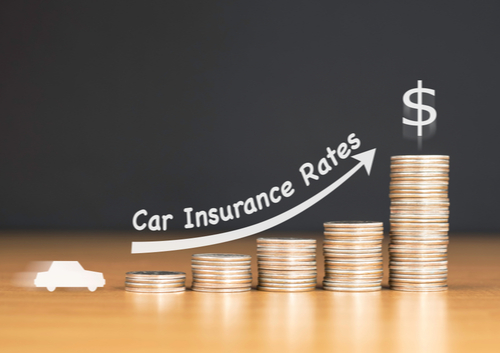 Car insurance rates were virtually flat over a five-year period, increasing about 1 percent annually, Donelon said — until about five years ago. Louisiana's auto insurance rates since then have been rising at a faster clip, with the largest jump, an 8 percent average, taking place in 2016.
It's too early to say how much rates will rise in 2017, Donelon said, but the trend could level off soon.
More recently, State Farm, Louisiana's largest insurer with more than 1.1 million policyholders, raised car insurance rates an average of 13.5 percent on Jan. 30. A year earlier, the company raised rates an average of 8 percent.
Progressive Security increased rates 4.1 percent in early 2016 and 9.4 percent late in the year. Allstate increased rates an average of 9.5 percent in 2016. Geico Casualty plans to increase car insurance rates by 16 percent this year. Louisiana Farm Bureau is raising rates by 14.2 percent, but the company's filing with the state Insurance Department says a 19.4 percent increase is justified.
Those companies write the bulk of the state's auto insurance, and their recent filings did not include the impact of the August flood that destroyed tens of thousands of cars. Future rate filings may.
"Auto insurers look at past catastrophic events to determine what their expected future comprehensive losses may be," Deputy Insurance Commissioner Ileana Ledet said. "So down the road we may see insurers raising the comprehensive portion of their rates a bit to anticipate a future catastrophic flood of the extreme magnitude we saw in August."
Insurance industry members and consumer advocates say a number of factors lie behind the recent rate increases.
The Great Recession that wiped out tens of thousands of jobs nationwide meant fewer people driving. As the economy recovered and gasoline prices fell, more drivers hit the road, mainly for work. They got into more wrecks — crashes that cost more to repair in part because of the expensive technology built into vehicles.
In 2015, the number of miles driven in the United States rose 3.5 percent, the biggest increase in more than 20 years. The number of accidents rose nearly 4 percent, according to the National Highway Traffic Safety Administration. From 2011 to 2015, the latest year available, the number of accidents jumped nearly 18 percent.
In Louisiana, while the number of miles driven dipped slightly from 2014 to 2015, the number of accidents jumped more than 7 percent, according to a report from LSU's Highway Safety Research Group. From 2011 to 2015, the number of crashes rose by 12.4 percent.
Over that same period, Louisiana's auto insurers have seen claims costs increase from 67.4 percent of the $2.0 billion in premiums collected in 2011 to 76.7 percent of $2.3 billion collected in 2015, according to Insurance Department records. State Farm lost $84 million on its auto business in 2015.
Robert Hunter, director of insurance for the Consumer Federation of America, said lower gasoline prices, coupled with more optimism about the economy, led to more driving. The increase in driving explains most of the increase in losses.
Meanwhile, claims costs, which include medical care and auto repair costs, jumped 13 percent over the two years ending in March 2016, according to the Insurance Information Institute, an industry-funded group. That's 10 times the rate of inflation.
Increases in income have given consumers the means to buy newer cars, said Loretta Worters, a spokeswoman for the institute. While many of these cars have all types of safety features that might help prevent accidents, those cameras and sensors are also much more expensive to fix or replace when damaged.
"The problem is all these cars nowadays, they have so many bells and whistles on them. I've seen side view mirrors get knocked off and cost a thousand dollars," said Jerome Wiley, general manager of Gordon & Sandifer Auto Service Inc. in Baton Rouge.
Take into account: Cameras in each mirror to eliminate blind spots. Touchscreen displays with warning indicators for each angle. Front collision warning systems, basically a radar mounted at the front of the vehicle. Multi-airbag systems. Seatbelts that automatically tighten and lock in accidents. All of it costs money, Wiley said.
Even simpler repair components, like paint, cost more as manufacturers comply with federal regulations designed to limit potentially harmful emissions, he said.
Add in the impact of distracted driving, and it's not hard to see why car insurance rates are rising. The National Highway Traffic Safety Administration said distractions account each year for 18 percent of crashes with injuries, 15 percent of property damage-only accidents and about 10 percent of traffic fatalities.
Distracted driving accounts for about 20 percent of Louisiana's fatal crashes, although the NHTSA says state numbers "are not necessarily representative of actual occurrences, but maybe more indicative of reporting issues." Fatal crashes account for less than 0.5 percent of Louisiana's traffic accidents.
Distracted driving includes smartphone activities such as texting and talking, watching videos, reading, eating, drinking and adjusting the sound system.
Wiley said smartphone usage has overwhelmed the accident-prevention technology on new cars and trucks.
"I'd say over half of the wrecks we see people bringing in — they won't admit to it — is from distracted driving. And distracted is usually their phone," Wiley said.
State Farm spokesman Kip Diggs said distracted driving, whatever the cause, has always been worrisome.
"However, our concern has grown, as it has likely become a greater loss exposure. Increased phone usage, enhanced technology and various other distractions now accessible or available in vehicles are all contributing factors," Diggs said.
Like a lot of other motorists, Donelon said he has been forced to sit through red lights twice because the driver in front of him is too busy with a smartphone to notice the signal changed.
As if all that weren't enough, insurers also have seen the return on their investments — companies invest premiums while waiting to pay claims and expenses — drop along with interest rates. The return on insurers' portfolios was 4.5 percent in 2007, according to an October 2016 report from the Insurance Information Institute. It was 3.2 percent in 2015.
However, Donelon said there's reason to think the big increases may be over.
During a Jan. 29 conference call, Allstate President Matthew Winter told stock analysts and investors that "the spike is over" and rates have stabilized at a new norm. However, the new norm includes more accidents due to an improving economy and more cars on the road, and the greater use of smartphones and distracted driving.
Original story by Ted Griggs of the Advocate, posted on March 12, 2017.
If you'd like to discuss the details of your case with a personal injury lawyer, please contact us to set up a consultation.