What Should I Do If My Loved One is Being Neglected or Abused in A Nursing Home?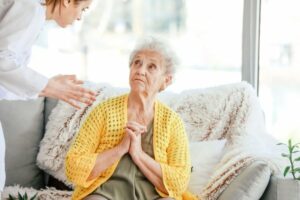 If you suspect that your loved one is the victim of abuse or nursing home negligence then you must take swift action to get to the bottom of it. If you believe they are in immediate physical danger, call 911 to alert the authorities. Then contact a Louisiana nursing home abuse attorney who can help you file a legal claim.
By working with a successful law firm like Huber Thomas Law, you will have help from a law firm that cares about justice and putting an end to the abuse. We also believe in holding the nursing home accountable and recovering compensation for the damages suffered. Contact us today to get justice for you and your family.
Nursing Home Abuse is More Common Than Many People Realize
No one wants to think about the most vulnerable people in our population being the victims of neglect or abuse, yet it is all too frequent. According to a study by the World Health Organization, one in six people over the age of 60 report being the victim of some kind of abuse within the last year.
As alarming as it is, that statistic is general to elders in general – when you home in on abuse in nursing homes, the data is staggering. According to the same WHO study, two out of three nursing home and long-term care staff report having committed abuse in the past year.
How can we stop nursing home abuse?
There are two main steps that can be taken. First, those who are guilty of this abuse can be held accountable. Filing civil lawsuits to hold their employers financially liable is the first step in doing this. Law enforcement can file criminal charges when appropriate.
Second, steps can be taken to ensure proper staffing. According to a study from the Human Rights Watch, much of the abuse and neglect that occurs is the result of understaffing or improperly trained staff. They point to a reduction in staffing during COVID-19 – which has continued to be an issue and is expected to be an issue for years to come – as one of the biggest causes of an increase in elder abuse in nursing homes.
Common Signs of Nursing Home Abuse
If you know how to spot nursing home abuse, then you can be the one to put an end to it. Our elderly population is at a higher risk of abuse than younger populations due to physical or mental health issues that can make it difficult for them to stand up for themselves, and are less likely to be taken seriously when they do.
This is why it is essential for everyone to be aware of the signs that a person is being abused or neglected in a nursing home. They include:
Unexplained physical injuries
Repeated physical injuries
Broken bones
Serious, untreated bedsores
Head injuries
Bruising
Dehydration
Malnourishment
Poor hygiene
Soiled bedding
Sudden and unexplained personality changes
Changes to a person's emotions
Fear, nervousness, or withdrawal
Crying
While many of these signs are not substantial evidence on their own, several of these signs together should prompt a worried party to contact the authorities – and an attorney. For example, a person who suddenly has a mood change, has an unexplained injury, and seems withdrawn might be the victim of abuse.
Medical Malpractice
A nursing home abuse lawyer can be called in to help with many types of nursing home abuse, including medical malpractice such as medication errors. If you or a loved one has suffered harm as a result of medical malpractice in a nursing home, contact an attorney immediately.
Nursing Home Neglect
Louisiana law makes it clear that nursing home neglect is unlawful and that victims can sue to recover damages caused by their neglect.
There are three general types of nursing home neglect
If the staff of the nursing home does not uphold a reasonable standard of care and a resident suffers harm as a result, then the resident has been the victim of neglect. Generally speaking, nursing home neglect falls under one of three categories:
Medical neglect. Failing to provide residents with medication on time, not attending to broken bones or bedsores, or not calling 911 in an emergency are all examples of medical neglect.
Living needs neglect. Examples of this type of neglect include not providing food or water to residents, not giving them enough bathroom visits, or other actions that lead to malnutrition, dehydration, and even death.
Hygiene neglect. Allowing residents to stay in beds that are soiled, not bathing residents, and not changing their clothing are examples of hygiene neglect.
Who can sue the nursing home for neglect?
The elders who themselves were the victim of the neglect can sue, as can their family members in certain cases.
Is nursing home neglect the same thing as nursing home abuse?
Not exactly. Negligence is generally not intentional and occurs when a person fails to take actions that they should take. Abuse is generally intentional and comes from direct action. Regardless of the intention of the guilty party, both types of abuse can have serious consequences.
Physical and Sexual Abuse
A person who is physically or sexually abused while a resident of a nursing home or care facility should contact the police for immediate help. They should also contact an attorney who can determine if there are grounds for a civil lawsuit.
The Worst-Case Scenario is Filing a Wrongful Death Lawsuit
If your loved one has passed away due to neglect or abuse by a nursing home, then you are living with a terrible burden. Depending on the circumstances in your case, we might be able to file a wrongful death lawsuit that would hold the at-fault parties accountable.
Your Claim Has the Best Possible Chance When We Build the Strongest Possible Case
In order to win your claim, your nursing home abuse lawyer will need to prove the following:
That the nursing home had a legal duty of care for the victim
The nursing home did not meet the minimum level of care required
The staff's abuse and/or neglect harmed the victim
The victim suffered injuries and/or damages due to the harm
The victim or their family is owed compensation to cover medical costs, to heal from emotional pain and suffering, to pay for funeral costs, and other damages
Civil Lawsuits Hold Nursing Homes Accountable
To file a lawsuit against a nursing home or long-term care center, you'll need to work with a nursing home abuse attorney. Our first step will be to file a complaint that includes:
Details of how the injury occurred
All the facts related to the incident
The names of all parties who took part in the abuse
A list of all witnesses
Evidence is Crucial to Winning Your Case and Holding the At-Fault Parties Accountable
You will not win your case if you do not have evidence. Your nursing home abuse attorney can help you gather the necessary evidence such as:
Pictures of the neglect
Pictures of injuries from the neglect or abuse
Medical records
Contact information for witnesses of the abuse
Testimony from expert witnesses
Surveillance footage
Log books and records from the nursing home
When can a nursing home be held liable for neglect or abuse?
Nursing homes are not always responsible for abuse or neglect that occurs within their walls. For example, if a visitor abuses a resident of a nursing home and the staff was not made aware of the abuse nor did anything to lead to the abuse, then the nursing home might not be held accountable.
In order for the nursing home to be held liable for the abuse, we must show that the nursing home or its employees acted negligently. This might include:
Negligent hiring. If the nursing home did not do adequate background checks, did not require necessary academic degrees or training, or hired people with a record of abuse or violence, then they could be found negligent in their hiring process.
The Centers for Disease Control and Prevention (CDC) report that the average staff in a nursing home is one for every 1.64 residents. If a nursing home does not staff enough people to reasonably care for their residents, then they could be found negligent for understaffing.
Lack of training. Employees at nursing homes must be adequately trained in order to do their jobs correctly. If they are not, then the nursing home that employs them could be found negligent.
Third-party abuse. While a nursing home is not always found negligent in the event that a third-party unaffiliated with the nursing home abuses a resident, they could sometimes be. For example, if there was a lack of security at the facility that allowed third-party access to the victim, then the nursing home could be found negligent.
These are only a few examples of the many ways a nursing home could be found negligent for the abuse or neglect their residents endure.
Time Could Be Running Out – Call Today for a Free Legal Consultation with a Louisiana Nursing Abuse Attorney
You do not have an unlimited amount of time to file your complaint. In most cases, the statute of limitations for Louisiana personal injury claims is just one year from the date of the injury. Acting fast is essential to ensuring you can pursue all available legal remedies to the abuse or neglect you or your loved one has sustained.
Huber Thomas offers a comprehensive approach to your case
The key to winning your case is an in-depth investigation that can uncover all available evidence. We look at all potential factors that were involved in the abuse or neglect, including staffing issues, unsafe practices, and background checks.
We will also schedule depositions with other parties involved, including witnesses, doctors, the police, other residents, and anyone else involved. The more information we're able to gather about a particular case, the better our chances of success.
Trust our long history of courtroom success
About 95% of personal injury claims settle outside of court. Though we know that this is the most likely outcome, we treat every case and prepare every case as though it is going to trial. We are committed to aggressively seeking fair settlements that hold guilty parties accountable. If the at-fault parties are not willing to agree to a fair settlement, then we will be ready to take them to trial.
You can read our long list of previous case victories to learn more about the hundreds of cases we have successfully litigated and the millions of dollars we have secured for our clients. We believe that holding companies financially accountable is an essential part of stopping and preventing elder abuse.
Contact Huber Thomas Law today and let us help you find the best way to respond to this terrible situation.