5 Things to Know About Property Damage Claims
From dangerous hurricanes to tropical storms, the Gulf South often bears the brunt of natural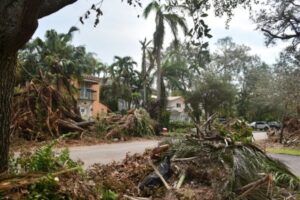 disasters. The result is destruction that affects homes, businesses, and major resources. These losses underscore the importance of having a comprehensive insurance policy that includes coverage for property damage.
Unfortunately, insurance jargon can be difficult to comb through, especially after disaster strikes. At Huber Thomas Law, we know how to handle property damage claims, and we can walk you through the process. Here's what you should know about your rights and securing the compensation you're owed.
What Is Considered Property Damage?
Property damage is defined as an injury to real or personal property. Real property is land and anything permanently attached to it, such as a house. Fortunately, property owners can obtain insurance to protect against the risks associated with these damages. Here are some of the most common types of property damage claims, especially in Louisiana and the surrounding states.
Hurricane damage
Hurricanes are perhaps the largest weather threat in Louisiana, as well as the entire Gulf South region. Driving rain and high winds come together to create catastrophic damage. Hurricane Laura, the most recent hurricane to date, destroyed more than 500,000 homes and businesses. From roofs torn off buildings to electrical fires, these weather events have deadly and disastrous potential.
Flood damage
It only takes an inch of floodwater to cause more than $25,000 in damage. Whether it's carpet or hardwood, homes and businesses simply can't withstand that type of moisture. The end result can be any or all of the following:
Roof issues, destroyed flooring, and foundation cracks
Mold and mildew on flooring, drywall, insulation, and belongings
Damaged kitchen appliances
Septic and well water clogs due to excess water and debris
Damage to electrical wiring
Unfortunately, many homeowners' insurance policies don't include flood damage. This coverage is provided through a separate policy.
Fire damage
Fires can happen in the blink of an eye. Space heaters and cooking mishaps make them a possibility anywhere. Downed power lines and wildfires are other causes that are commonly cited in property damage claims.
Fire-related property damage examples are broken into two categories. The first is primary damage due to the flames, but secondary damage often occurs due to smoke and the water used to put out the fire.
Tornado damage
Louisiana and other nearby states ranked among the top 10 states that fell victim to tornadoes in 2021. The high winds associated with a tornado can damage buildings, or even level them. Even the lowest-ranked tornado, an EF 0 sustains winds of up to 85 mph. This can lead to broken branches and downed trees that fall onto homes, causing significant property damage.
Willful damage
Vandalism is another aspect of property damage law that is difficult to deal with. Whether it's your home or business, deliberate destruction is costly. Any intentional act to destroy or damage your property is unacceptable.
Examples include:
Broken windows
Arson
Cutting down trees without permission
Graffiti or tagging
Mailbox or signage tampering
The Property Damage Insurance Claims Process: 5 Things To Know
Damage to your home or business is devastating. To make matters worse, many insurance companies make the property damage claims process frustrating. It seems they'll do everything they can to avoid paying out a fair settlement. In these cases, knowledge is power. Here are 5 important things to know about how to handle property damage claims.
1. You must report the incident as soon as possible
Property damage claims generally take time. From that first call to receiving a payout, it can be weeks or even months. Nonetheless, it's essential to get in touch with your insurance company as soon as you've assessed the damage. Your policy may actually provide guidance regarding how much time you have.
This first phone call doesn't have to be lengthy. In most cases, you'll simply provide information that helps the employee locate your policy, and answer questions about what happened. You'll also provide details about the damage and how extensive it is. From there, the company will most likely assign an employee to your case and have that individual touch base at a later date.
As always, be open and honest about the property damage and what caused it.
2. It's important to document everything
After you've contacted your insurance company, take photos and thoroughly document the damage. Be sure to get clear photos from different angles. A video is also helpful in certain situations. Keep a log of the property damage, how it appears, and how it changes (if at all) as the days go on.
If you're reading this before you're in the midst of property damage claims, it's a good time to do a value assessment of your home. If you've recently invested in a renovation or have acquired high-value items since you first purchased insurance, be sure to update your policy. This will help you secure the compensation you need in the event of a disaster.
3. Your adjuster is an important piece of the puzzle
Once you've filed a claim, an insurance adjuster will be assigned to your case. This individual likely has experience assessing many different types of property damage claims, including ones similar to yours. This person will investigate the damage, negotiate the coverage you receive, and hopefully resolve the claim.
While adjusters are sympathetic to what you're going through, it's important to remember that they work for your insurance company. Try to foster a cordial relationship with this person. Do your best to remain professional and courteous, even when you disagree with certain conclusions.
As always, dealing with adjusters and other insurance representatives can be draining. This is why it's ideal to have a property damage lawyer in your corner.
4. Major local disasters may result in a different process
When a major disaster hits an entire geographical region, the process of securing insurance money can be different.
For one, there may be public adjusters offering to assess your property damage. These individuals work for policyholders, rather than insurance companies. However, it's important to know that there are fees associated with using a public adjuster.
Further, in the event that your damages exceed the amount of coverage you receive, federal agencies may provide grants or low-interest loans. These are designed to aid in recovery efforts after a major disaster.
Again, a skilled property damage attorney is your best bet for navigating after a major local disaster.
5. An experienced property damage attorney can help
Property damage claims should be simple and straightforward. You pay your insurance premium with the expectation that your insurance company will cover costs when you need it the most. Unfortunately, this isn't always the case. After decades of experience navigating property damage law, we've been disappointed to see many insurance companies act in bad faith.
Hiring a property damage attorney is beneficial for many reasons. Consider the following:
Your attorney will handle all communication with the insurance company, which means you won't have to worry about saying the wrong thing.
A lawyer may enlist experts from a range of different industries to build a strong case regarding your losses.
Here are some examples of common types of property damage claims.
In the event that negotiations aren't successful, your lawyer can represent you in court with full knowledge of prior events and correspondence.
Huber Thomas Law: Your Property Damage Attorneys
At Huber Thomas Law, we believe in holding insurance providers accountable. We will thoroughly review your property damage claims, pinpointing exactly what you're entitled to. We lean on guidance from the attorneys within our own team, as well as the expertise of property damage inspectors. This approach allows us to build a winning case that will help us secure the money you need to repair or replace your property.
Our courtroom success stories
The team at Huber Thomas Law has decades of combined experience in the courtroom. We are diligent and unrelenting when it comes to pursuing fair settlements for our clients. Simply put, our previous case victories speak for themselves. Highlights related to property damage law include:
$26.2 million settlement for owners of a Louisiana high-rise office building that suffered extensive hurricane damage
$4 million in a jury verdict for a retail center owner after another Gulf South hurricane
More than $15 million in settlements for Hurricane Laura and Delta homeowners
To read through more of our success stories in a range of different practice areas, we invite you to review our case victories.
Don't let property damage devastate your family or business. Huber Thomas Law will serve as your tireless advocate every step of the way. We represent clients in Louisiana, Texas, Mississippi, and across the nation. Schedule a complimentary consultation today.