Your Guide To Spinal Cord Injuries And Truck Accidents
If you or someone you love has been involved in a trucking accident, we know how drastically they can change your life. These massive vehicles, also known as big rigs, semi-trucks, or 18-wheelers, can cause devastating crashes. In the most serious cases, they are fatal. In others, they can lead to lifelong issues, such as spinal cord injuries and traumatic brain injuries. After any trucking accident, you need support. Fair compensation can help you cover your medical costs and ongoing care after a trucking accident. At Huber Thomas & Marcelle, we can help you navigate the complex trucking industry laws and regulations so you can find the support you need. Here's what you need to know about spinal cord injuries and trucking accidents.
How often do truck accidents occur?
A semi-truck is the largest type of vehicle you'll find on the road. Some are carrying mail packages, while others may be transporting produce to your local grocery store. Some trucks are even transporting hazardous materials.
With a full tank and cargo load, this type of truck can weigh up to 30 times more than a regular car. While that alone is a cause for concern for surrounding drivers, there are several other issues.
For example, these are some of the major risks that can lead to truck accidents:
Driver fatigue due to long stretches of work, especially at night
Large blind spots around the sides and rear of a large truck
Lack of ability to brake at high speeds, especially while traveling on wet roads or steep hills
Longer acceleration distances, which are especially risky while attempting to merge into traffic
Hazardous material cargo, including corrosive agents, explosive materials, or nuclear waste
While the trucking industry is federally regulated, there are still many issues to sort through. Truck accidents occur much too often, and in the worst cases, they have fatal outcomes. More than 4,100 people died in large truck crashes in 2018. According to the Insurance Institute for Highway Safety, 67% of them were occupants of cars and other passenger vehicles.
Unfortunately, statistics show that the problem is only getting worse. In fact, trucking accidents are on the rise. The number of people who died in large truck crashes was 31% higher in 2018 than it was in 2009, the lowest it had been since the collection of fatal crash data began in 1975.
What types of injuries occur after truck accidents?
If a trucking accident isn't fatal, it is still likely to be catastrophic in terms of injuries and property damage. There are several different types of injuries that may occur after truck accidents, including, but not limited to:
Whiplash: If you are hit from behind, your head may be thrown violently back and forth causing whiplash and a range of other neck injuries
Back injuries: When your back is struck or twisted around in a trucking accident, the results can lead to chronic pain and debilitation
Broken bones: The impact of a big rig can break bones all over the body, including your ribs, arms, and legs
Head injuries: When you hit your head against a dashboard or are struck by debris, serious head injuries can occur, including brain injuries
Internal trauma: Blunt trauma from the powerful blow of a truck can cause internal bleeding and damage to organs
Lacerations: Most trucking accidents involve flying debris that can pierce the skin and lead to deep cuts as well as scrapes
Beyond this list, the most serious and prevalent injuries after trucking accidents are spinal cord injuries. This type of injury can change the course of your entire life. The spinal cord is significant because it helps your body function by sending and receiving messages from the brain. Let's look at the impact of this type of injury more closely.
What are spinal cord injuries?
We walk around every day completing basic tasks. From getting a plate out of the cupboard to reaching for your wallet, these everyday occurrences are seemingly mindless. Most of us don't give too much thought to the fact that the spinal cord makes all of this possible.
In basic terms, your spinal cord is a bundle of nerves that runs down the center of your back. It transmits sensory information from your body to your brain, which means it is an integral part of your life. It enables you to move your limbs, control your bladder, and so much more.
The bony vertebrae of your spinal column protect this cord of nerves from damage. However, severe trauma can fracture, compress, or even sever the spinal cord. When communication between the brain and spinal cord fails, paralysis occurs. This is why spinal cord injuries are so dangerous.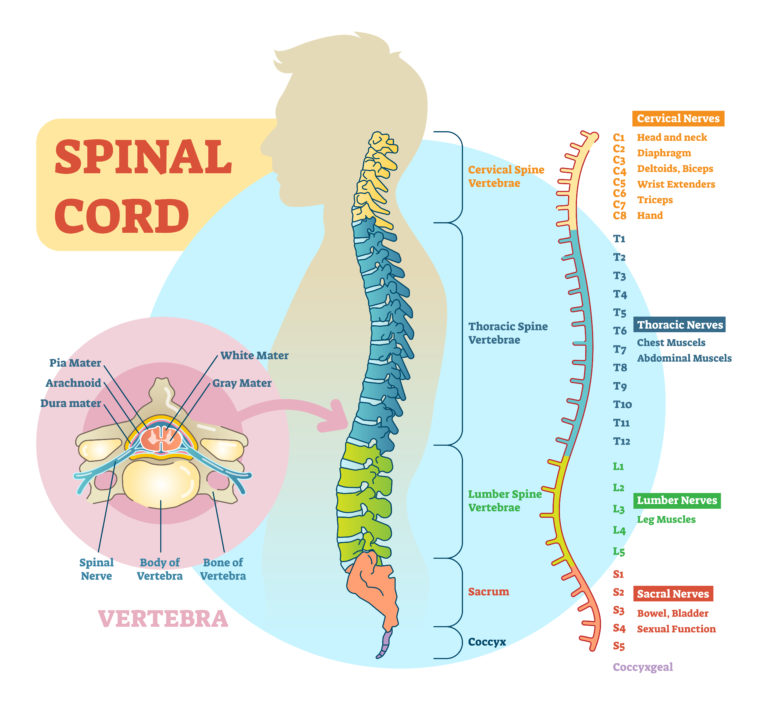 Types of spinal cord injuries
As with any injury, there are varying levels of severity of spinal cord injuries. This will largely depend on the location of the impact. In general, the higher up the injury takes place, the more severe the outcome.
For example, an injury to the neck, first and second vertebrae, or mid-cervical vertebra could affect your ability to breathe. An injury that occurs lower than this in the lumbar vertebrae may affect nerve and muscle control to the bladder, bowel, legs, and sexual organs.
Spinal cord injuries are classified into three different categories or types:
Quadriplegia: Refers to loss of movement and sensation in all four limbs, but may also affect a person's respiratory system
Paraplegia: Loss of sensation and movement in both legs
Triplegia: Involves motor and sensory loss in both legs and one arm
Doctors must also determine whether a spinal cord injury is complete or incomplete. A complete injury refers to a total lack of movement or feeling below the level of the injury. An incomplete injury means there is still some degree of feeling or movement below the level of the injury.
Recovery and aftercare
The moments immediately following spinal cord injuries are critical. Remain still and avoid moving your spinal column. In a serious case like this, it is best to wait for emergency care to arrive. This will increase your odds of a better recovery.
From there, you will most likely be transported by ambulance to the nearest hospital. Doctors there will work to stabilize you with oxygen, blood transfusions, and a brace to keep your neck and back still. The following hours are critical and will have a serious impact on your recovery.
While every spinal cord injury is different, there are several methods of treatment your medical team may recommend. This could include all, or a combination, of the following:
Surgery to repair tears and damage to the spinal column
Physical therapy to improve your range of motion and strengthen the damaged area
Injections to reduce inflammation, provide pain relief, and repair damaged tissue
Occupational therapy and rehabilitation to allow you to return to work
The use of assistive devices and braces
Aftercare will look different for every person. In cases of severe spinal cord injuries, you may require a wheelchair, either temporarily or permanently. This will depend on the extent of your injury and any paralysis you're experiencing.
Furthermore, you may require special in-home care in order to accomplish daily tasks. While this is a worst-case scenario, it is still the reality for many spinal cord injuries. A spinal cord injury during a trucking accident can truly alter the course of your life.
What should I do after a trucking accident?
Any accident is frightening, but a run-in with a truck of this size can leave you feeling completely shaken and overwhelmed. Your first priority should always be to call for help, especially if you or any of your passengers are hurt. It doesn't matter if it seems to be minor, it's always best to have emergency officials evaluate the situation. As noted, it's best to remain still if there's any evidence of spinal cord injuries. Ask nearby witnesses to complete the following tasks in this case.
If there aren't any evident injuries, you'll still need to call police. An officer will come out to the scene to write up a formal crash report. This document can be very helpful when dealing with the truck driver, the company they work for, and insurance representatives.
Once you've called the local police department in your area, follow these important next steps:
Get contact information for the driver involved: Don't leave without getting information from the truck driver involved in the crash. This should include their name, phone number, license plate, and insurance information. Jot down any details about the company they work for and their employee ID number as well. If they're subcontracting for a larger shipping company (such as Amazon), get the names of both companies too.
Talk to witnesses: Did anyone see the crash happen? Perhaps someone was in a nearby parking lot or restaurant. Maybe another driver saw the crash happen and pulled over to help. Exchange information with these witnesses. You'll likely need firsthand accounts later on to support your case.
Gather evidence: If you're in a safe place, begin to gather evidence from the site of the accident. Take photos of the entire area, as well as any damage to your vehicle or skid marks on the road, sidewalks, and guardrails.
Whether you are returning home or being admitted to a hospital, you or someone you love should consider hiring a truck accident lawyer right away. This will help you determine the next steps. An experienced car accident lawyer will be open and honest about the best plan for your specific situation and can help protect your rights after a crash.
Get help after a trucking accident
Recovering from a spinal cord injury is a lifelong effort. If a truck driver is responsible for your injury, you have the right to fair compensation so you can heal. This financial support will usually be necessary to cover rehabilitation, lost wages, continued medical care, and any medical equipment your doctor deems necessary.
At Huber Thomas & Marcelle, we understand the trauma that occurs with spinal cord injuries. As your car accident attorney, we will work closely with expert medical witnesses to calculate a fair settlement based on the physical, work-related, and mental damages you are suffering from.
Our New Orleans car accident lawyers have brought hundreds of personal injury cases to trial. We pride ourselves on our excellent trial success record and client-centered focus. In many cases, you don't pay anything unless we win your case.
Give us a call today to discuss your situation.