What You Need to Know About Riding a Motorcycle in Louisiana
Motorcycle ownership has been "revving" up in recent years. During the COVID-19 pandemic, motorcycle sales spiked—and the popularity is still growing. More enthusiasts are enjoying the freedom motorcycling offers on the open road. 
Whether you are a prospective or seasoned motorcycle owner, it's important to follow Louisiana laws in your ownership and operation. Obtaining a Louisiana motorcycle endorsement is your first step. It's essentially your green light to ride.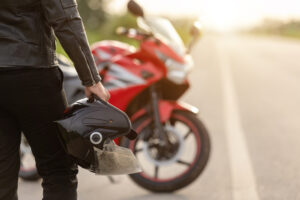 As a law firm dedicated to protecting victims in vehicle accidents, we see motorcycle cases often. Riding a motorcycle presents its own set of dangers. To better safeguard yourself if an accident occurs, you must follow all Louisiana requirements for motorcycle ownership.  
Read on for our breakdown of everything you need to know. 
How to Get a Motorcycle Endorsement in Louisiana 
 In the state of Louisiana, motorcycle endorsements must be indicated on a license in order to drive the following: 
Motorcycles

 

Motor-driven cycles

 

Motorized bicycles/mopeds

 
You must have this endorsement for motorized cycles with more than 5 horsepower, regardless of the speed or size. It's essentially your green light for navigating Louisiana streets, highways, and roadways on your motorcycle.  
To receive an endorsement, you must have: 
A valid Louisiana driver's license or learner's permit

 

A score of 80% or higher on the Motorcycle Knowledge Test and Skills Test

 

Skills Test:

Your intended motorcycle and helmet, as well as your current license plate, insurance, and inspection sticker.

 

Alternate:

Completion of the Department of Public Safety, Motorcycle Safety, Awareness and Operators Training Program.

 
Below we've provided more information on your motorcycle endorsement requirements and options.  
For First-Time Endorsement Seekers
Are you wondering if you need a specific license to drive a motorcycle in the state of Louisiana? In fact, a separate license for motorcycle use is not needed. 
If you already have a Louisiana driver's license, you will only get a motorcycle endorsement added to it. Of course, you will first need to prove that you are qualified for such endorsement.  
Below we've broken down your options.  
Option #1: Take the Required Motorcycle Skills Tests
To get a motorcycle endorsement, you must schedule two tests at the nearest Louisiana Office of Motor Vehicle location. 
Motorcycle Knowledge Test

 

Road Skills Test

 
You can prepare for the Motorcycle Knowledge Test by reading and understanding the Motorcycle Operator Manual. You will need to demonstrate your understanding of the information provided in this guide during the test. This guide covers everything you need to know about Louisiana regulations for motorcycles.  
To take the Road Skills Test, bring the motorcycle you plan to ride, a helmet and eye protection. Your motorcycle needs to be fitted with a Louisiana license plate. You need to fit your motorcycle with a Louisiana license plate. You must also bring your current driver's license, proof of insurance, and a current inspection sticker. You must demonstrate your ability to safely operate a motorcycle. 
The tests cost approximately $18 with a local fee of up to $6.  
Option #2: Enroll in a Motorcycle Training Course
For those seeking motorcycle endorsements, there exists another option in the state of Louisiana. You may also take the Basic Rider Course through the Department of Public Safety. You can do this course instead of the written Motorcycle Endorsement Test and Road Skills Test listed in Option #1. The Basic Rider Course includes: 
Online e-course (5 hours)

 

Riding sessions (5 ½ hours on a Saturday and Sunday)

 
This course will teach you the basics of motorcycle operation, including maneuvering and risk management. These skills are essential for ensuring safety for both you and other drivers on the road. We recommend taking the Basic Rider Course if you're new to motorcycles or haven't bought one yet. In this course, you will be provided with a motorcycle for training.  
Apply for Your Motorcycle Endorsement
After finishing your tests or the Basic Riders Course, you can now request your Class M Motorcycle Endorsement. You can make an appointment at your nearest OMV to obtain this endorsement. You will need to bring: 
Your driver's license or photo ID

 

Proof of residency

 

Motorcycle insurance cards

 

Certificate of completion from your motorcycle training course

 
At your appointment, you will fill out an application, take a vision test, and pay the necessary fees for the application. Once you receive your class M motorcycle endorsement, you may operate under this endorsement for up to 6 years. 
For New Louisiana Residents
The process is simple for new Louisiana residents who already have a motorcycle endorsement from another state.  
Book an appointment at your nearest OMV.

 

Bring the following documentation:

 

A valid driver's license

Social security card

Proof of insurance 

 
You must do this within the first 30 days of residency. You do not have to take any exams. Once approved, the OMV will provide you with a Louisiana driver's license with a class M motorcycle endorsement.  
The cost for the Basic Rider Course depends on whether or not you have your own motorcycle. The Basic Course is $100 for those borrowing a Department of Public Safety motorcycle. For those with their own motorcycle, the course is $25.  
Louisiana Motorcycle Laws You Need to Know
As a motorcycle endorsement holder, there are other motorcycle laws in Louisiana that you need to follow. These laws ensure that you're able to enjoy your new ride safely and securely, being mindful of other drivers and passengers on the road. 
Insurance Requirements for Motorcyclists in Louisiana
As mentioned previously, you will need to show proof of insurance when you apply for your motorcycle endorsement. The OMV will not issue you a motorcycle endorsement without coverage.  
As with any other driver on the road, you will also be asked to show proof of insurance if you were to be stopped or involved in an accident. Your insurance coverage is your protection in the event of property damage or bodily harm. Trust us, you do not want to ride your motorcycle without it.  
In Louisiana, motorcyclists are required to have a liability policy. Minimum policy amounts include:  
Bodily injury liability for one person: $15,000

 

Bodily injury liability for 2+ people: $30,000

 

Property damage liability: $25,000

 
You may want to consider adding other coverages in the event of motorcycle damage and need of repair and replacement. 
Collision:

Covers your motorcycle if it becomes damaged and needs repair.

 

Comprehensive:

Protects you

r motorcycle

in the event of fire, wind, or water damage, as well as theft or vandalism.

 

Custom Parts and Equipment

:

Covers custom upgrades, parts, and modifications. 

 

Uninsured/Underinsured Motorist Coverage:

safeguards you when you crash into someone without insurance or insufficient funds to cover the costs.

 
Yearly Motorcycle Inspections for Louisiana Drivers
If it is your first time purchasing a motorcycle, you need to have your motorcycle inspected at a repair shop. You have 40 days from the purchase of your motorcycle to do so. Furthermore, you must complete the inspection at a shop approved by the Louisiana Department of Public Safety and Corrections.  
Those who have moved to Louisiana with a motorcycle will also need to conduct a Louisiana DPS-approved inspection. Motorcycle owners must inspect their motorcycles yearly. 
Required Protective Gear for Louisiana Motorcyclists
Eye Protection
When driving a car, your windshield protects you from flying objects, including bugs and debris. A motorcycle may not have this layer of protection. To protect your eyes from objects that could cause an accident, you must wear eye protection.  
Approved eye protection includes: 
Goggles

 

Face shields

 

Safety glasses

 
During the day, motorcyclists may enjoy wearing tinted eye protection to also shield their eyes from the sun. You are allowed to do so. However, you are not allowed to wear tinted eye protection at night.  
If your motorcycle has a tall windshield, you might not need to wear eye protection. At Huber Thomas Law, we recommend you still do so.  
Helmets
Riding a motorcycle is a thrilling, yet dangerous, experience. There is a risk of serious injury, including head trauma, when a collision occurs. If you're wondering whether or not you need to wear a helmet in Louisiana, we've got your answer.  
Yes, you—and any passenger—will need to wear a helmet on the bike. The helmet must meet the requirements as outlined by Louisiana law: 
Must be manufactured for use on a motorcycle

 

Must be secured properly with a chin strap while in motion

 

Must also be outfitted with lining, padding, visor, and chip strap

 
Wearing helmets while riding a motorcycle can protect you and your passenger from brain damage and head trauma. 
Requirements for Riding Motorcycles in Louisiana
When operating your motorcycle, there are other laws you need to keep in mind. Below are the regulations as outlined in Louisiana Revised Statutes 32:191. 
Seats
You must only ride on the "permanent or regular" seat attached to your motorcycle. 

 

Your passengers must also only ride on the "permanent or regular" seat as long as:

 

The seat is designed for two riders.

 

Another seat is securely adhered to the motorcycle's rear or side.

 
Passengers
You can only ride with a passenger if the motorcycle is designed for more than one rider.

 

You must sit astraddle on your motorcycle (facing forward with one leg on each side).

 

Your passengers must not be carried in a way that distracts from safe operation.

 
Cargo
You must not carry any items that keep you from a firm two-hand grasp on your handlebars.

 
Children
A child who would normally be required to sit in a rear-facing or forward-facing car seat is not allowed to ride in a motorcycle. 

 

Children 5+ years old may only ride on a motorcycle if they are seated properly and wearing a helmet. 

 
Additionally, Louisiana Revised Statutes 32:191.3 outlines your requirements for footrests and handlebars.  
Footrests
A motorcycle must be equipped with footrests for passengers.

 
Handlebars
Handlebars must not require the driver to reach above their shoulder height while sitting astraddle and gripping the handlebars.

 
Laws on Motorcycle Traffic Lane Use in Louisiana
Motorcyclists enjoy riding city streets and country roads without the bulkiness of a car. The open air circling around you can be a freeing feeling. However, safe lane use is a requirement when riding a motorcycle around the state of Louisiana. 
Louisiana Revised Statutes 32:191.1 allow motorcycles to have full use of a lane. This means that another vehicle, such as a car, cannot overtake you while you are riding a motorcycle. You are also not allowed to overtake another vehicle in the same lane.  
It is often a very dangerous occurrence when motorcycles weave in between lanes of traffic. For this reason, motorcyclists are not allowed to do so. There is a high probability that a moving vehicle will not see you and crash into you, causing a potentially dangerous accident. 
The exception to this is if you are riding alongside another motorcycle. Up to two motorcycles can ride next to each other in one traffic lane. Any more than two is not allowed.  
When the Unexpected Occurs, Choose Huber Thomas 
At Huber Thomas Law, we believe in equipping motorists with information to keep them safe. We compiled the motorcycle laws listed above to protect both new and seasoned motorcyclists in the state of Louisiana. 
By following these laws, you can mitigate the risks that motorcycles can bring. However, the unimaginable and unexpected can still occur. In these cases, you have a team on your side.  
When you, your passenger, and/or your motorcycle has been injured in an accident, we can help. Our motorcycle accident lawyers can help you navigate insurance claims, hospital bills, and more—keeping you informed at every step. 
Contact us today for a free consultation.