Pipeline Fights Move From Dakota Prairie to the Bayou Bridge Pipeline
HENDERSON, Louisiana (Reuters) - When Hope Rosinski's father gave her a six-acre plot in Louisiana more than a decade ago, she was surprised to find oil and gas pipelines crisscrossing the property. The Bayou Bridge pipeline was born.
Pipeline companies later secured her permission for two more lines, one of which has since caused flooding and consistently leaves her land saturated.
Now she's had enough. Rosinski is fighting the latest request for a right-of-way, this time from Energy Transfer Partners - the company behind the controversial Dakota Access Pipeline. She said ETP declined to make contract changes she wanted or to properly compensate her for lost property value.
Opposition to the company's planned extension of the Bayou Bridge pipeline has made Louisiana bayous the latest battleground in a nationwide war against new pipeline construction.
The pushback here is one example of the increasingly broad and diverse base of opposition nationally, which now extends beyond traditional environmental activists. In Louisiana, opponents include flood protection advocates, commercial fishermen, and property owners such as Rosinski.
Their fight follows high-profile protests in North Dakota that were led by Native Americans and joined by military veterans, who together succeeded in convincing the Obama administration to delay construction.
Although the new administration of President Donald Trump has since cleared that project's completion, pipeline companies are nonetheless taking the rising political opposition seriously. Alan Armstrong, chief executive at pipeline firm Williams Companies (NYSE:WMB), told a conference in Pittsburgh that Trump's action would not hamper the protest movement.
"It may even enhance it," he said the day after Trump cleared the Dakota pipeline in January.
Bayou Bridge pipeline supporters argue that more infrastructure is essential for the oil and gas industry to provide affordable energy and reduce dependence on foreign imports and dirtier energy sources such as coal.
Opponents counter that Bayou Bridge pipeline companies can't be trusted to prevent leaks. Technology designed to detect spills only accomplished that goal in 20 percent of known pipeline leaks between 2010 and 2016, according to a Reuters analysis of data from the U.S. Pipeline and Hazardous Materials Safety Administration.
Energy Transfer and its affiliates had among the most spills of any pipeline company, with nearly 260 leaks from lines carrying hazardous liquids since 2010, according to the Reuters analysis. An ETP spokesperson said most of those spills were small and occurred on company property.
The company said in a statement that it seeks to work with landowners and communities to "build the pipeline in the safest, most environmentally friendly manner possible."
ETP's relations with Rosinski, however, have apparently broken down. She told Reuters that the firm has threatened to take her to court for the right of way, citing legal rights of pipeline companies to build infrastructure for broader public benefit.
Rosinski wants to resist but knows a court battle could be costly and lengthy.
"I'm a single mom," she said. "I don't have the finances."
ETP declined to comment specifically on Rosinski's case but said it typically gets voluntary agreements on easements from owners in about 9 out of 10 cases, without legal action.
NOT IN MY BACKYARD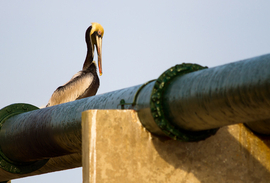 Some pipeline protesters are driven by opposition to any expansion of fossil fuel development, but many have more local and specific concerns.
Many protests so far - including the encampment in North Dakota, led by the Standing Rock Sioux tribe - have focused largely on fear of water contamination.
Similar objections have cropped up in West Texas from protesters of Energy Transfer's Trans-Pecos gas line, and in Arkansas and Tennessee over the Diamond Pipeline operated by Plains All American Pipeline.
Activists in Pennsylvania have been fighting a Williams Companies pipeline plan for three years. The company is looking to add 185 miles of new pipeline to its Atlantic Sunrise line, connecting the northeastern Marcellus natural gas shale region with the southeast part of the state. Opponents have argued the expansion could cause an explosion or taint the local water that supplies farms.
They're borrowing tactics from the Standing Rock tribe's standoff. Malinda Clatterbuck, 46, of Lancaster, Pennsylvania, who leads the group Lancaster Against Pipelines, said residents are setting up a camp in Conestoga, where a right-of-way has been granted and plans to live on and off at the camp with her family.
"I'm exhausted and angry about this," she said. "Why do we have to upend our lives just to try to get justice for our community?"
Williams said it has operated 60 miles of pipeline safely in Lancaster County and that the company plans to exceed federal safety standards for the extension.
"We've also heard from thousands of people who support the project - individuals, chambers, and business groups - who recognize the economic benefit," the company said in a statement.
DEAD CRAWFISH IN THE BAYOUS
In Louisiana - home to massive oil refineries and about 50,000 miles of pipelines - ETP's planned Bayou Bridge extension would run across southern Louisiana for about 160 miles, between Lake Charles and St. James.
The state has a mutually beneficial but testy relationship with the oil industry, which is widely blamed for cutting through wetlands and contributing to coastal erosion that has left Louisiana more vulnerable to hurricanes and flooding.
Some opponents of the Bayou Bridge are concerned that its construction will pollute drinking water and constrict drainage systems during heavy rains. Others want to see pipeline companies take better care of the environment during and after construction.
Jody Meche, 47, of Henderson, fears economic damage. He has fished in the Atchafalaya Basin for a quarter-century. For years, he has been pushing companies to remove spoil banks caused by pipeline construction and oil exploration because they hurt the commercial fishing industry.
The spoil banks act as dams inside the basin, damaging the local ecosystem by stopping water flow.
Meche can see the impact in the crawfish traps he pulls up from the bayou daily during the season, from February to early summer. The critters resemble tiny lobsters and are in high demand at bars and backyard boils from New Orleans to Houston.
"The stagnant water is not good for them at all," Meche said. "They don't grow as well, they don't eat as much, they are very lethargic."
Meche can sell large, healthy crawfish for about $1.50 a pound. But the smaller ones he often catches these days fetch half that, and many in his traps these days are dead and worthless.
CONTRACT DISPUTE
Rosinski, meanwhile, is still fighting with Enterprise Products Partners, the pipeline company she said damaged her property during the construction of an ethane line a few years ago. She said she has spent the last year trying to get Enterprise to restore her land and stop the flooding.
The cost to fix it could be as little as $1,200, she said.
Enterprise told Reuters it hopes to resolve the issue amicably, but that it has not gotten clear guidance from an attorney hired by Rosinski.
Rosinski received the right-of-way request from Energy Transfer Partners as she was squabbling with Enterprise. She suggested 30 changes to the contract and requested more compensation. ETP refused, she said and told her it may take up the dispute in court.
"I've done my part," she said of her previous agreements to allow pipelines through her property. "They're consuming my land."
Story by Liz Hampton at Reuters.
If you'd like to discuss the details of your case with a personal injury lawyer, please contact us to set up a consultation.